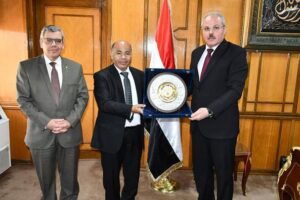 Dr. Ismail Al-Hadi, Cultural Counselor of the Libyan Embassy in Cairo, presented the Shield of the Cultural and Academic Supplement of the Libyan Embassy to prof.Dr. Nasser Mandour, President of Suez Canal University;
In appreciation of his efforts and care for Libyan students, and coordination between the two sides, which led to an increase in the number of students coming from Libya to study, and those wishing to join the university, and he also praised the Canal University for overcoming all the difficulties and obstacles that may face the Libyan arrivals at the university.
For his part – Prof. Dr. Nasser Mandour presented the Suez Canal University shield to the cultural advisor; For his effective contributions in strengthening relations between the Libyan Cultural Supplement and Suez Canal University.
This came during the visit made today by Dr. Ismail Al-Hadi, the cultural advisor of the Suez Canal University
Al-Hadi also presented another shield to Prof. Dr. Mohamed Saad Zaghloul, Vice President for Postgraduate Studies and Research, appreciating his efforts in coordinating between the two sides. To provide Libyan students from master's and doctoral studies with all the special needs to facilitate their studies at the university.