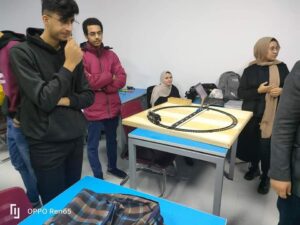 Prof. Dr. Nasser Mandour, President of Suez Canal University, confirmed that student projects aim to train students to apply what they have studied in theory in the form of a practical project that will be a gateway for them to enter the labor market, as they are trained to apply what they have studied throughout the years of study in practice.
added that these projects are among the requirements for graduation in many faculties, especially the practical faculties, especially the engineering and technological sectors.
This came as a comment by Prof. Dr. Nasser Mandour, President of the University, on holding a project presentation conference for students of  the Egyptian-Chinese College of Applied Technology, Departments of Electronics and Mechatronics.
While Prof. Dr. Mohamed Abdel-Naim, Vice President for Education and Student Affairs, stated that with the end of the first semester approaching, students compete in presenting project ideas. The ideas and forms of graduation projects vary year after year, and they develop into innovative projects with a great degree of creativity.
While Prof. Dr. Tamer Nabil, Dean of the Egyptian-Chinese College of Applied Technology, explained that at the end of the semester, each subject professor divides the students into groups, and each group creates a project idea related to the curriculum that was explained. That they are all environmentally friendly, and present a new scientific innovation that helps solve an actual problem, in the framework of preparing for the college's student research conference, which is expected to be held next March, and in preparation for the competition in the university-wide student research conference on the second of next May.
During this week, 30 projects were discussed, the ideas of which revolved around smart garages for cars, energy saving operations, various methods of extinguishing types of fires, radars to detect and deal with the enemy, automatic thermal measurements, with projects to move solar energy cells in all directions so that we can get the most from solar energy, using all kinds of sensors, whether in cars or sticks for people of determination who are blind, by issuing sound and vibrations.
Dr. Ahmed El-Sayed, Vice Dean of the Egyptian-Chinese College of Applied Technology, indicated that the student projects implemented ideas revolving around protecting the environment, and attempting climate changes through the use of environmentally friendly materials .It is now animated to film the preparation of the students and their efforts.