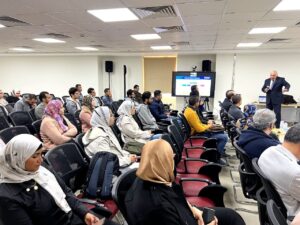 Prof. Dr. Nasser Mandour, President of Suez Canal University, stated that the Institute of Information Technology, branch of Suez Canal University, organized a scientific symposium, during which the international Egyptian researcher, Professor Moenes Amin, Director of the Center for Advanced Communications at Villanova University, USA, hosted a scientific symposium, which dealt with the topic "Radio Frequency Sensing for Health Monitoring Applications".
The president of the university added that the symposium aims to present the advantages of sensing radio waves for smart home applications and health care systems in particular; To follow up on human activities within care homes.
Prof. Dr. Mohamed Abdel-Naim, Vice President for Education and Student Affairs, indicated that the symposium witnessed participation from students of the Faculty of Engineering and the Egyptian-Chinese College of Applied Technology, students of the institute and faculty members from the university.
Professor Moanis Amin confirmed that sensor technology and data analysis is one of the most powerful tools used to locate the elderly inside homes, locate their locations, and monitor their daily activities, which in turn helps in detecting undesirable incidents such as falling or changing the daily lifestyle, which may be considered evidence of changes in health. Or cognition in the elderly; sensing radio waves also helps in monitoring vital signs and detecting some symptoms of neurological and physical diseases. The symposium provided a detailed explanation of these points, with examples and actual applications based on sensing radio waves.
At the end of the meeting, prof . Moanis Amin presented a copy of his book to Suez Canal University.
It is noteworthy that Professor Moanis Amin assumed the position of Director of the Center for Advanced Communication at Villanova University in the United States of America, and he is a professor in the Department of Electrical and Computer Engineering at Villanova University.