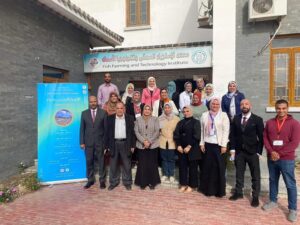 Based on the community role of Suez Canal University to learn about everything new in the field of fish farming and its impact on climate changes and its role in climate changes accompanying the COP27 climate conference
Prof. Dr. Nasser Mandour, President of Suez Canal University, stressed the necessity of shedding light on modern techniques and methods for the development of fish wealth and aquaculture through scientific research and development in the various fields of aquaculture and the selection of specialized research in this field.
In this regard, the Institute of Fish Farming and Fish Technology at Suez Canal University organized the third conference for postgraduate studies and applied research under the title of Fish Wealth and Climate Change.
The conference comes under the general supervision of Prof. Dr. Mohamed Saad Zaghloul, Vice President for Graduate Studies and Applied Research; And the executive supervision of Prof. Dr. Mohamed Al-Tabei, Dean of the Institute and President of the Conference
Prof. Dr. Mohamed Saad Zaghloul also explained that the conference aims to enable postgraduate students to present and exchange opinions and ideas in order to broaden the perceptions of research students and provide them with opportunities to keep abreast of the most important recent developments in the field of scientific research.
The opening session of the conference was attended by Prof. Dr. Sami Abdel-Malik, Vice-Dean of the Institute for Postgraduate Studies and Research and the conference rapporteur, Prof. Dr. Mohamed Ahmed Fekry, teacher of hatchery production, and Dr. Noha Ibrahim Al-Banna, teacher of aquaculture disease control at the Fish Farming Institute, coordinators of the conference.
On the axes of the conference, Prof. Dr. Mohamed Al-Tabei explained that the conference will discuss modern technologies and trends in the field of combating aquaculture diseases, genetic methods in the production of aquatic hatcheries, modern technologies in the field of food and nutrition in aquaculture, and the sustainable development of fish wealth and capture fisheries.
Prof. Dr. Al-Sayed Owais Omran, Professor of Lands and Head of the Lands and Water Department at the College of Agriculture, delivered a lecture entitled (The Road to the COP28 Climate Summit), stressing the role of the Institute's postgraduate students in presenting research and ideas that help the climate to recover and focus countries on fisheries in the coming period, as it is Less harmful to the climate.